Maharshi Vedavyas Pratishthan

वेदाः सर्वहितार्थाय । (Vedas are for the welfare of all!)
The most ancient literature in this universe is related to Vedic sciences. Veda is the foundation stone of Indian culture. The arduous task of conservation of Vedic literature by learning the scriptures by heart and by following the pious lifestyle has been going on in this country since time immemorial. However, in today's modern times, this divine science of knowledge is experiencing nonchalance and cold-shouldering from the government as well as the society. It is for certain that the tide of increasing influence of foreign culture can be stemmed only by those values and thoughts emanating from Vedas.
With the sole aim of encouraging study of Vedas, Swamiji founded Maharshi Vedavyas Pratishthan("Trust") on 21st February 1990 at Alandi (Pune), Maharashtra with the help of a few spiritually inclined people.
It is the primary objective of the Trust to encourage education of Vedas, Vedangas (branches of Vedas) and Sanskrit language that is one and only medium of Vedic literature.
Listed ahead are some of the activities carried out by the Trust to achieve its aforementioned goals:
Scholarship for Vedic students
Grant to Vedic schools
Financial support to young Vedic scholars
Honorarium, pension for old Vedic scholars
Workshops, conventions and symposia for furthering Vedic studies
Maharshi Veda Vyas Award.
This Vedic school was founded on 17 th October 1991 , on the auspicious day of Vijaya Dashami, at the sacred place of Alandi , on the banks of holy river Indrayani . Having its own spacious precincts this school has been in the forefront since the beginning in the realm of Vedic Studies. So far , about 200 students have completed Vedic studies in this school. Some of the ex-students of this school are working as teachers in other Vedic schools.
Alongwith the studies chiefly of Shuklas Yajurved Madhyandin Scripture, Sanskrit, Hindi, English languages are also taught in this school. Besides, computer education also has been introduced in this school. Guru Pournima and other religious occasions are enthusiastically celebrated in this school regularly.Various competitions are organized here regularly for personality development of the students. Close to this very school, the concept of 'Vedashri Tapovan' , a university of Vedic Education , is taking shape.
On the banks of Holy river Godavari, known as Dakshin Ganga (the Ganga of south), in the picturesque and peaceful ambience of Dhalegaon village is situated this Vedic school.It was founded on the day of 4 th July , 1993.A souvenir also has been published when the school completed 10 years. Six streams of four Vedas are studied here.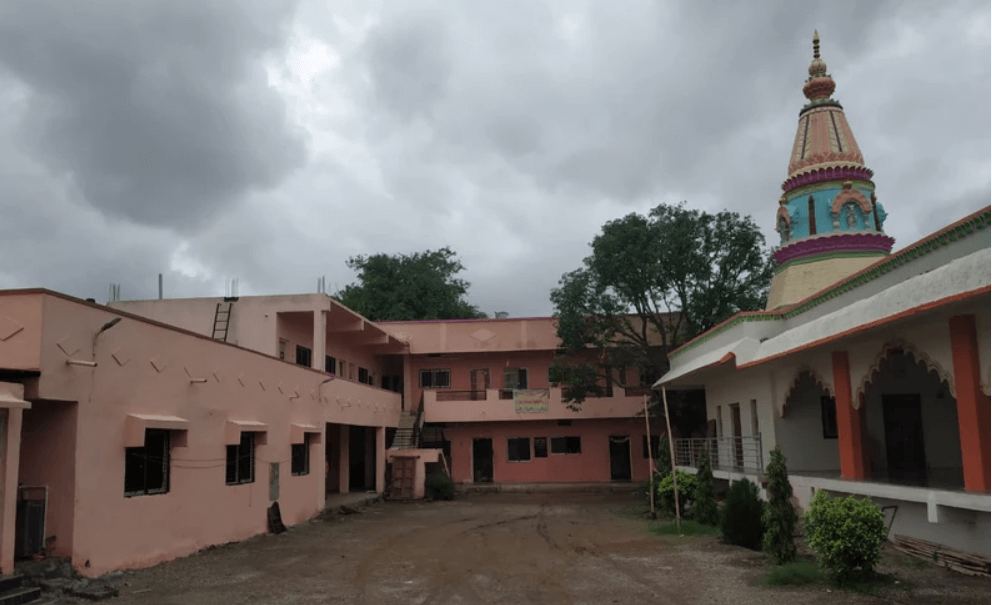 The school was founded on 4 th May , 1967 by Mahamahopadhyay Yadnyeshwar Shastri Kasture. The school is situated in an isolated place , away from the hustle and bustle of a city. Here , Rigved , Samaved and Atharvaved are studied. Moreover, Hindi, Sanskrit and English languages also are taught in this school. About two years ago , a Parjanya Yaga was organized here in the school.
The school was opened at the auspicious hands of HH Mukundkaka Jatdeolekar on 14 November , 2002. Vedic rituals in Rigved scripture are learnt here.
The school was inaugurated at the hands of Acharya Kishorji Vyas and chief of Rewasa Peeth , Shri Raghavacharyaji on 20 September , 2003.
With the blessings of Adimaya Jagdamba , the school was founded on 16 September,1999.The scripture of Madhyandin stream of Shukla Yajurved is studied in this school.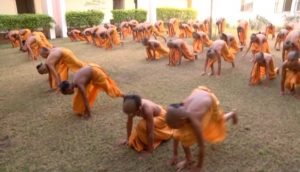 Pushkar is considered as the holiest among holy places .On 28 January , 2001, this school started functioning. Along with the studies of Madhyandin stream of Shukla Yajurved , Sanskrit and English languages ,music , arts and computers also are taught here.
Here , education of the rituals described in Shukla Yajurved is imparted with a view to create a large group of Vedic erudite who are properly conversant with the Vedic rituals .HH Swami Narayan is the chief of this Math.
Saint gulabrao Maharaj used to regard Saint Dnyaneshwar as his father .It was his desire to propel Brahmin students for studying Vedas. According to his wishes, this Vedic school was started on 4 June 2003 by Acharya Kishorji Vyas. Madhyandin Stream of Shukla Yajurved is learnt here.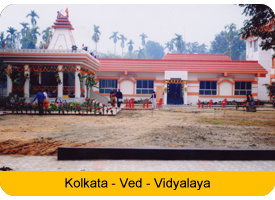 Acharya Kishorji Vyas founded this Vedic school on 21 December , 2003 in Bengal , the sacred land of Saint Chaitanya Mahaprabhu , with a view to reviving Vedas.This school has the blessings of great saints like Jagat Guru Shankaracharya , Shri Swami Dayananda Saraswati Maharaj and Shri Santoshi Mataji Mahamandaleshwar.
14. Shri Satyamitranand Giri Ved Vidya Kendra, Surat (Gujarat)
15. ShubhkaranTiveniVedvidyalaya, Lakhisarai (Bihar)
16. Vedarth Bodh Vidyalaya, Pune (Maharashtra)
17. Manipur Ved Vidyapeeth, Imphal (Manipur)
18. Yogeshwar Yadnyavalkya Ved Vidya Pratishthan, Sarai (Maharashtra)
19. Sant Dynaneshwar Vedvidyalaya, Vrindavan (Uttar Pradesh)
20. V. M. Vishwanath Dev Gurukul, Varanasi (Uttar Pradesh)
21. Gayatri Ved Vidyalaya, Rishikesh (Uttarakhand)
22. Shri Jayendra Saraswati Gurukulam,Sudi, Gadag (Karnataka)
Vriddha Vaidik Nivrutti Dakshina (Pension for Old Vedic Scholars) In order to help Vedic sciences take deep roots, mere social prestige is not sufficient for any Vedic scholar. A monetary support needs to be made available for him with a view to enabling him to lead a respectable life in the society. Pension, if offered to an old Vedic scholar who is a pauper and leads life in poverty goes a long way in providing all-needed succor to him. It is unfortunate, that a common government employee enjoys pension facility while a person who carries out hard penance of committing his entire life to the service towards Vedas remains deprived of any such facility. If a Vedic scholar, who is past his prime gets pension, his self-respect is enhanced and it also goes a long way in giving rise to respect and love for him among his family members. Therefore, the Pratishthan launched a pension scheme, Vriddha Vaidik Nivrutti Dakshina, (Pension for Old Vedic Scholars). Currently, several Vedic scholars are the beneficiaries of this novel and unique scheme.
Yuva Vaidik Parikshan Yojana (Support scheme for Young Vedic Scholars)
At times, young Vedic scholars immediately after completing their studies find it difficult to lead a stable life in terms of social prestige and financial position. Some of them, somehow, manage to make money and meet both the ends by offering their services as priest.
However, a few of them turn down this option because they are enlightened thinkers and scholars of Vedic sciences. Instead of working as a priest, they prefer dedicating their lives to studying and practicing Vedas.
Unfortunately, the society refuses to take notice of their dedication and sincerity and they have to face neglect by the society and perennial dearth of finances. The young and promising Vedic graduate, despite having scholarly attitude and aptitude of a very high order, thus, is plagued by hostile financial situation that consequently gives rise to tension in his mind.
Pratishthan, however, cares for them by offering monthly financial help to such young, extra-ordinary Vedic scholars immediately after their graduation for the next three to five years. This scheme helps these young Vedic scholars gain confidence and stability in their live
Shree Veda Swadhyaya Shibir (Workshop for Vedic Studies)
To encourage and provide support to the students who are engaged in the divine work of learning Vedic sciences, to remove inconveniences, if there are any, in their path as far as possible, to facilitate their Vedic studies and to develop their abilities are some of the key objectives of Maharshi Veda Vyas Pratishthan.
In order to accomplish their objectives, the Pratishthan regularly organizes Vedic study workshops. This is one of the most important tasks of the Pratishthan.
Vedic students engaged in the study of various branches of Vedas come from all corners of the country to participate in such workshops where renowned Vedic scholars of respective branches of Vedas examine academic depth and preparation of the participants of the workshop.
Later, extra-ordinary students are chosen by the experts for scholarships. The climate in the workshop is always found to be heartening, uplifting, inspiring and extremely charged with academic brilliance.
Till date, nine such workshops have been organized in various parts of the country.
All the trustees of Maharshi Veda Vyas Pratishthan have immense faith in the task of conservation of Vedas. Self-inspiration from within has prompted them to participate in this divine social work. Despite being well off in their respective vocations, they have chosen to engage themselves in this service. The Pratishthan has deep respect for all the trustees for the selfless service they have been offering to the trust.
Office-Bearers of the Board of Trust (2020 – 2023)
HH Swami Govindadev Giri (Acharya Kishorji Vyas) (Pune): Founder and President
Shri Bhagirathji Laddha (Mumbai) : Vice President
Shri Rajeshji Malpani (Sangamner) :Mantri (Executive)
Shri Rajgopalji Maniyar (Solapur) : Treasurer
Shri Rameshwarlalji Kabra (Mumbai)
Shri rajkumarji Agrawal (Pune)
Shri Harshadbhai Shaha (Mumbai)
Shri Vinitji Saraph (New Delhi)
Shri Krishnakantji Raskar (Pune)
Dr. Shri Vijayji Bhatkar (Pune)
Prof. Shri Dattatrayaji Kale (Sangamner)
Shri Maheshji Nande (Pushkar)
Shri Vishnuprasadji Goyanka (Kashipur)
Shri Shrikrishnaji Malla (Kolkata)
Shri Chandrakantji Kele (Dhule)
Shri Ramavtarji Jaju (Indore)
Shri Madhusudanji Zunzunwala (Mumbai)
Shri Madhusudanji Zunzunwala (Mumbai)
Shri Jagdishprasadji Sonthaliya (Secunderabad)
Shri Bansilalji Rathi (Chennai)
Dr. Smt. Bhagyalata Pataskar (Pune)
Shri Chandrabhanuji Sharma (New Delhi)
Adv Shri Ratanlalji Atal (Amravti)
Shri Arunji Bhangdiya (Hydrabad)
Several committees have been formed with a view to fulfilling the objectives of the trust. Many individuals having affinity for the Trust's works as well as experts in various fields are making their valuable contributions along with the trustees working in various committees. Anyone desiring to participate in the work of various committees is welcome to contact the members of the board of trustee.
The trust, Maharshi Veda Vyas Pratishthan was instituted in the year 1990 with the objective of conservation of Vedas. Since then, the trust is engaged in the task of supporting and encouraging the study of Vedic sciences.
Now, since the trust's work towards protecting the Vedic traditions has been quite stabilized, the trust has set its sight on establishing a Vedic University that will not only be the centre of the Pratishthan's activities but also be the universal foundation of Vedic studies.
Any trust is known by the activities and the work it carries out. At present, the Pratishthan is successfully carrying out the task it is committed to – the task of conservation of Vedas. And simultaneously, quite a few projects also are under consideration to be executed in near future. 'Vedashri Tapovan' (Alandi) and Shri Brahma Savitri Vedic University (Pushkar, Rajasthan) are some of the prestigious projects planned.
During last 32 years, since 1990, Pratishthan's work of conservation and promotion of Vedic literature and traditions is expanding by leaps and bounds.
Pratishthan's progress, quantitative and qualitative, can be seen at a glance with the help of the progress graph.
We hope, this spiraling progress graph will prompt and inspire you to participate in the spiritual task of Maharshi Veda Vyas Pratishthan
What the leaders say!
For the last 32 years, the work of Maharshi Veda Vyas Pratishthan is going on relentlessly in the spirit of 'Nishkama Karmayoga' (selfless work carried out dutifully without expectations of material returns). And the work will go on continuously even in future also.
However, when a person upon whom is bestowed our highest respect and faith eulogizes and showers praise on the Pratishthan's work, when the Pratishthan receives their encouraging remarks , then all those associated with the Pratishthan feel elated and their bosom is filled with excitement.
When the elders praise and bless, Pratishthan is inspired and fired up for carrying out its committed work more zealously. The back-patting remarks of these respected and honorable persons are not of lesser value than any prestigious award.
Hon. Shree Ashokji Singhal:
The commitment towards Vedas being inspired by the services rendered by Maharshi Veda Vyas Pratishthan while carrying out the work of conservation of Vedas is going to be converted into the commitment towards our motherland.
The commitment towards Vedas being inspired by the services rendered by Maharshi Veda Vyas Pratishthan while carrying out the work of conservation of Vedas is going to be converted into the commitment towards our motherland.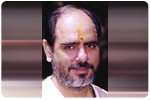 The most valuable work in the area of Vedic education is being carried out by Maharshi Veda Vyas Pratishthan. In this work, one can see the most vibrating seeds of the great cultural revival. I, sincerely, desire to be a small part of this work.
HH Sarsanghachalak Shri Sudarshanji (Chief of Rashtriya Swayamsevak Sangha, RSS)
• Prayer is being sung
• What would I do by becoming a mere song?
• A garland is being offered
• What would I do by becoming a mere flower?
• I am one small fiber of a garland
• I am one small note of a song
• I am just a small implement of our Holy Mother's pooja.
Shree Mahesh Chaitanya Brahmachari (Jodhpur):
Feelings of happiness and ecstasy are overwhelming the heart after witnessing the work of Maharshi Veda Vyas Pratishthan founded by Acharya Kishorji Vyas. I pray at the feet of Mother Tripuramba for Pratishthan's progress. My best wishes for Acharyaji.
HH Swami Satyamitrananda Giri:
Vedic literature is the original and basic scripture of Sanatan religion. 'Vedokhilam Dharmamoolam', which means tenets of religious, pious and proper behavior, emanate from Vedas. The best service to the Indian culture could be rendered by offering service to the Vedas. That kind of work would be the greatest chapter full of pride in the 21st century. While eulogizing the activities of Maharshi Veda Vyas Pratishthan, I pray for the long life of Honorable Veda Moorti Shri Kishor Vyas.
Your Participation:
The work being carried out by Maharshi Veda Vyas Pratishthan is the work of all those who are spiritually inclined devotees. Its progress is possible only with your moral, hearty and financial support. Though service to the religion is the most important work in life, it often turns out to be the most neglected work. However, you can participate in this mission in various ways.
Maharshi Veda Vyas Pratishthan is a trust registered with the Charity Commissioner. Its registered number is E 1438 (Pune). Donations to the trust are exempted under Income Tax Act section 80G. Maharshi Veda Vyas Pratishthan is also allowed by the Government of India to accept donations in foreign currency (Registered No: 083720080) as per the Donation Control Act.
It is your duty, our duty and the duty of all to build a new generation of our country. Supporting Maharshi Veda Vyas Pratishthan and participating in its various activities is one of the easiest ways to carry out one's duties. You are also welcome to point out our shortcomings, make suggestions, offer guidance and participate in our mission
Make sincere endeavors to study the eternal science of life by attending workshops regularly.
Attend Sadhak Sammelans regularly and communicate with other disciples.
Run weekly Satsang Centres and organize collective sessions of religious practices.
Propagate canvass for the material and books published by Dharmashree Prakashan by personally purchasing these books and other audio and video material for personal use as well as for offering them in the form of gifts to the dear and near ones.